SINTERRA
GOD THE SON'S TEMPLE
S I G N S
J.I.S. Live Steps & HIS SIGNS...
On HIS WAY... &... On HIS EARTH...
J.I.S. - God Son's Signs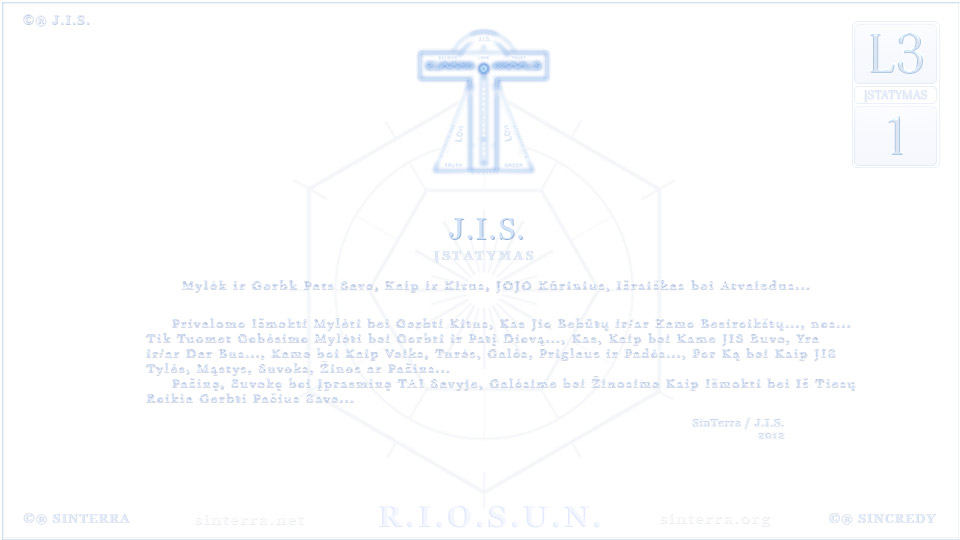 LT. Originalas.

Mylėk ir Gerbk Pats Save, Kaip ir Kitus, JOJO Kūrinius, Išraiškas bei Atvaizdus...

Privalome Išmokti Mylėti bei Gerbti Kitus, Kas Jie Bebūtų ir/ar Kame Besireikštų..., nes... Tik Tuomet Gebėsime Mylėti bei Gerbti ir Patį Dievą..., Kas, Kaip bei Kame JIS Buvo, Yra ir/ar Dar Bus..., Kame bei Kaip Veiks, Turės, Galės, Priglaus ir Padės..., Per Ką bei Kaip JIS Tylės, Mąstys, Suvoks, Žinos ar Pažins...
Pažinę, Suvokę bei Įprasminę TAI Savyje, Galėsime bei Žinosime Kaip Išmokti bei Iš Tiesų Reikia Gerbti Pačius Save...


EN. Translation.

Love and Respect Yourself, As Others, GOD'S Creations, Expressions and Reflections...

We Have To Learn Love And Respect Others, Who/Whatever They Are and/or Wherein They Express..., Only Then, We Will Be Able To Love And Respect THE GOD..., Who/What, How and Wherein HE Was, Is and/or Yet Will Be..., Wherein and How HE Will Act, Hold, Can, Cuddle and Help..., Where and How HE Will Keep Silence, Contemplate, Comprehend, Wit or Recognize...
Having Known, Perceived and Given Sense of THAT in Us, We Will Be Able and Know How to Learn and Truly Respect Ourselves.